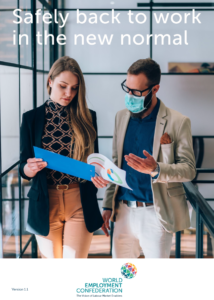 The private employment services sector is instrumental to the economic recovery after the Covid-19 pandemic. The immediate first step is to enable workers to resume work in the greatest health and safety conditions.
But to enable a sustainable economic recovery in the longer-term, workers, businesses and society must be better prepared to work in more fluid and agile situations. The private employment services sector can support here through increased labour market participation, efficient matching of supply and demand for workers, career guidance and skilling.
The World Employment Confederation has set up a dedicated task force for its members to pool their expertise on these two dimensions and to come up with solutions and recommendations that can be implemented in cooperation with public authorities, other economic sectors, trade unions and society as a whole.
The task force originates in a project launched by global private employment service agencies – Randstad, The Adecco Group and ManpowerGroup – in April 2020. As the Alliance has quickly broadened to involve a larger network of partners across the world, the World Employment Confederation (WEC) has taken over the ownership of the project in June 2020.