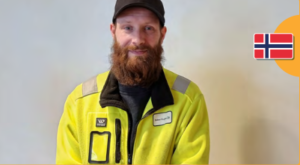 Knut had worked as a taxi driver in Norway for almost 10 years before he was diagnosed with multiple sclerosis. This led to him losing his drivers' licence. He was on sick leave for 10 months before contacting a project manager at a Norwegian temporary work agency specialised in providing highly skilled and experienced consultants to technology companies within the country's subsea, onshore and offshore industry.
The temporary work agency saw a good fit for him in a position in warehousing and logistics at an energy technology company. Having no formal education, Knut received plenty of support – including with the formulation of both his CV and job application. He got the job and today he works as a full-time, open-ended employee, handling, packing and sending goods and following up orders and projects. He is able to lead a normal life, despite his disability.
The support he received from the temporary work agency means a lot to Knut, who never imagined that he would be able to land a job which provides him with not only a fantastic working environment, but also a decent income.