Sectoral social dialogue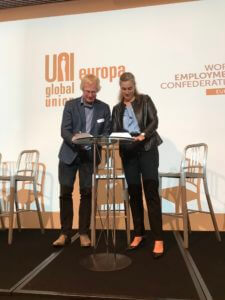 The World Employment Confederation-Europe regularly engages in research projects with external partners to further explore the evolution of labour markets and the role of the private employment industry in the changing world of work.
Much of this research work is conducted through the EU Sectoral Social Dialogue for Temporary Agency Work. Every three years, the World Employment Confederation-Europe and UNI Europa – the recognised social partners representing employers' and workers' organisations respectively – focus on a different theme that further deepens knowledge on the sector.
Topics covered so far include:
Social innovation
Online talent platforms
Comparing temporary agency work with other forms of employment
The role of temporary agency work and labour market transitions in Europe
Cross-border activities within the temporary agency work sector
Vocational training
The social partners usually adopt joint recommendations to advance the agency work sector. Find out more about those on our Social Dialogue page.