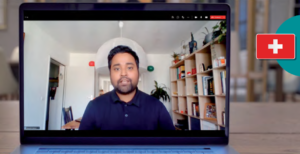 Gajan is 34 years old and lives in Basel, Switzerland.10 After finishing technical college in business informatics, Gajan worked for a multinational pharmaceutical company for seven years under an open-ended direct contract and continued to develop himself within the company. In 2019, he gave notice, deciding to search for a new professional challenge. Agency work appealed to him for the great flexibility it offered. He went on working at various client companies via several staffing agencies.
At the beginning of 2021, Hays, the temporary work agency that he is currently employed by offered Gajan a position as an agency worker at his former employer, the pharmaceutical company. Due to the pandemic, he was set to work exclusively from his home office. Gajan reacted positively to this opportunity. Remote working allows him to concentrate as much as possible on his work. The good team spirit did not suffer despite colleagues being scattered all around and working from home. Since he already knew the company, the sector, and the team, the virtual onboarding went smoothly. The temporary work agency and client company gave him good support and provided all the necessary equipment.
Gajan sees the advantages of working via Hays in the long-term contracts, the good social services, and the opportunities for further training. He especially appreciates the cooperation with the agency's employees, praising their recruiting and support as being outstanding. They remain in close personal contact, keep him up-to-date, get his feedback, and act proactively. If there was an end to his current placement, the staffing agency would react immediately and make him new, appropriate job offers. Gajan hopes that he will be able to continue working for the staffing agency for a long time.